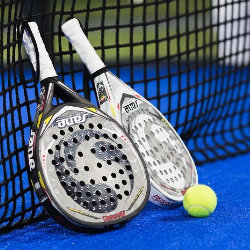 BBG Padel Tournament
Event Date: Thu, 5th Oct 2023
Event Time: 6:30 PM to 9:00 PM
Venue: Just Padel
Location: Mina Rashid

View Map
Member Registrations Fee: 195 AED
Pre-members Fee: 250 AED
Registration Closed
Following the success of our first BBG Padel Tournament, we're delighted to be repeating it on Thursday 5th of October.

Have you been wondering what all the fuss is about? Are you an experienced padel player that would like to combine their padel passion with business? The BBG is hosting an all-ability padel tournament at BBG Member Just Padel in collaboration with Alchemy Search to give members the opportunity to network and be active during Ramadan!
(free basic coaching will be available for those that are yet to experience padel)
This event is likely to fill up quickly so if we can't confirm your place for this event then you will be a priority booking for the next one!

If your company is a BBG member and you are not a named member, please register by emailing [email protected] to benefit from the member rate, named members should register online as usual. Cancellations will be accepted until 11.59am on Tuesday 3 October after which "no show fees" will apply.

In collaboration with: Venue Host: