We are delighted to share that we have been shortlisted for "International Chamber of the Year" for 2023 in the British Chambers of Commerce Awards!
Date Posted:Thu, 28th Sep 2023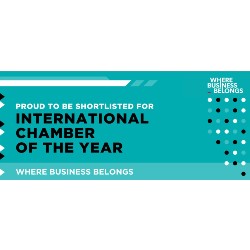 The next stage is a presentation to a panel of judges and the successful chamber will be announced next month!
Whilst by name we are a business group - we are recognised by the British Chamber of Commerce as a chamber equivalent for the role we play for British business and expats in Dubai - in the support we provide, the government and industry stakeholder relationships we have and for the volume of bilateral trade business development we actively encourage and facilitate. We also pride ourselves on a strong working relationship with the Dubai Chamber of Commerce

Please wish us luck for the judging panel!

Our best wishes to the other shortlisted Chambers in the process!